View Full Site
Al Pacino Bio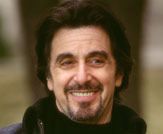 AL PACINO
Date of Birth: April 25, 1940
In only Al Pacino's third film, he was nominated for an Academy award. Of course, that film—The Godfather—is known as something of a classic. But he proved his nomination was no fluke by following it up with great performances in Serpico and The Scarecrow before tackling the role of mafiaso Michael Corleone in The Godfather Part II which earned him yet another Oscar nomination.
Although Pacino was nominated for an Oscar many more times over the years, he would have to wait until 1992's Scent of a Woman to finally take home a statuette. Not that winning awards and the fame that comes along with being a star means that much to him. "I'm an actor," he says, "not a star. Stars are people who live in Hollywood and have heart-shaped pools." And as for fame, he says it's "a perversion of the natural human instinct for attention."
Pacino was raised in the South Bronx by his mother and grandfather after his father left home when he was just a kid. He was accepted as a student at Manhattan's famed High School of Performing Arts but dropped out at 17 because his only affinity was for the "performing" part of the school and not the academic side. He made his living at a variety of menial jobs, saving up enough money to attend Herbert Berghof's acting school where one of his teachers was Captain Bligh himself—Charles Laughton.
In 1966, Pacino made the cut at Lee Strasberg1s Actors Studio and two years after that won an Obie for his stage performance as a drunken psychotic in The Indian Wants the Bronx. Three years after that, he won a Tony for playing a drug addict in Does a Tiger Wear a Necktie?. If you're sensing a pattern here in Pacino's choice of roles, you're right. Losers, drug addicts, alcoholics, lowlifes—Pacino has loved them all. In fact, it was his role as the heroin addict in the film Panic in Needle Park that directly led to his being cast in The Godfather.
But Pacino's first love is still the stage and he returns there again and again to feel what he refers to as "a physical thing. It's as if you were a tightrope walker and need to be on the wire. Your body wants to put itself in that kind of trouble."
Pacino can be seen in Stand Up Guys (2013), starring alongside Christoper Walken and Alan Arkin. He also voices a character in Despicable Me 2 (2013). More recently, he starred in Danny Collins (2015).
In February 2012, Pacino was honored with a National Medals of Arts and National Humanities Medal for his contributions to film and theater, personally handed out by President Barack Obama.
* 1992 Actor in a Leading Role Oscar winner for Scent of a Woman.
Filmography:
Danny Collins (2015)
The Humbling (2014)
Stand Up Guys (2013)
The Son of No One (2011)
Righteous Kill (2008)
Ocean's Thirteen (2007)
88 Minutes (2008)
Two for the Money (2005)
The Merchant of Venice (2005)
Gigli (2003)
The Recruit (2003)
People I Know (2003)
S1m0ne (2001)
Insomnia (2002)
Chinese Coffee (2000)
Any Given Sunday (1999)
The Insider (1999/I)
Devil's Advocate (1997)
Donnie Brasco (1997)
City Hall (1996)
Looking for Richard (1996)
Heat (1995)
Two Bits (1995)
Jonas in the Desert (1994)
Carlito's Way (1993)
Glengarry Glen Ross (1992)
Scent of a Woman (1992)
Frankie and Johnny (1991)
Dick Tracy (1990)
The Godfather: Part III (1990)
Sea of Love (1989)
Revolution (1985)
Scarface (1983)
Author! Author! (1982)
Cruising (1980)
...And Justice for All (1979)
Bobby Deerfield (1977)
Dog Day Afternoon (1975)
The Godfather: Part II (1974)
Scarecrow (1973)
Serpico (1973)
The Godfather (1972)
The Panic in Needle Park (1971)
Me, Natalie (1969)

<< back