View Full Site
Jaeden Martell Bio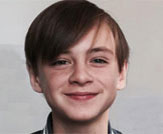 Jaeden Lieberher
Date of Birth: January 4, 2003
Jaeden Lieberher was born in Philadelphia, but when he was eight, he and his mother moved to Los Angeles. Shortly after, Jaden began auditioning for acting roles.
His first roles were in commercials, including one in which he plays a kid who rounds up his friends to combat bullies in a Hyundai Santa Fe Super Bowl ad.
He made his feature film debut in a starring role alongside Bill Murray, Melissa McCarthy and Naomi Watts in St. Vincent. Aside from commercials, he'd only played a role in a short film. Jaeden did six auditions for St. Vincent before landing the part.
Bill Murray then recommended Jaeden to director Cameron Crowe, who needed a boy to play Rachel McAdams' son in Aloha (2015).
Next, Jaeden filmed a lead role in Jeff Nichols' Midnight Special (2016), playing a boy with special powers who has to go on the run with his father (played by Michael Shannon).
In 2015, Jaeden played Johnny Masters, the son of Dr. William Masters (Michael Sheen), on a seven-episode arc on the Showtime TV series Masters of Sex.
In The Confirmation (2016), Jaeden plays a boy who reluctantly spends time with his alcoholic father (Clive Owen) while his mother (Maria Bello) spends a weekend away with her new husband.
He reunited with Naomi Watts for Focus Features' The Book of Henry, in which he plays Henry Carpenter. Fellow child star Jacob Tremblay plays his younger brother in the film.
Jaeden lives in Los Angeles with his mother, Angie, and his father, Wes, who runs a food truck.
Filmography:
It (2017)
The Book of Henry (2017)
The Confirmation (2016)
Midnight Special (2016)
Aloha (2015)
Playing It Cool (2014)
St. Vincent (2014)
<< back