View Full Site
Mary Elizabeth Winstead Bio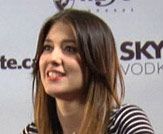 MARY ELIZABETH WINSTEAD
Date of Birth: November 28, 1984
Mary Elizabeth Winstead began her career in performing arts at a young age in Salt Lake City, Utah. It was in her adolescent years that Winstead's exceptional talent in dancing and acting earned her the opportunity to study dance at the prestigious Joffrey Ballet School in New York City. Soon after, she appeared in the Broadway production of Joseph and the Amazing Technicolor Dreamcoat with Donny Osmond and sang in the International Children's Choir.
Her on-camera career began with a role on the soap opera Passions, in which she played the part of Jessica Bennett. Her work on the series earned her a Young Artist Award nomination for Best Performance in a Daytime TV Series - Young Actress, and a YoungStar Award nomination for Best Young Actress/Performance in a Daytime TV Series. Other television credits include Touched by an Angel and Wolf Lake.
She's appeared on the big screen in Grindhouse: Death Proof, in which she starred alongside Kurt Russell and Rosario Dawson. It was in this film that Winstead had the opportunity to share her vocal skills when she sang "Baby It's You." She also starred in Emilio Estevez's Golden Globe-nominated film Bobby alongside such actors as William H. Macy, Demi Moore, Elijah Wood, Sharon Stone and Sir Anthony Hopkins, just to name a few. The film earned Winstead a Screen Actors Guild (SAG) Award nomination for Outstanding Performance by a Cast in a Motion Picture. She has also appeared in Factory Girl, Black Christmas, Live Free or Die Hard, Sky High and Final Destination 3.
Winstead played the lead role opposite Michael Cera in Scott Pilgrim vs. the World. Since then she has filmed a role in the thriller The Thing (2011) about researchers in Antarctica who discover the existence of an alien craft, and in Abraham Lincoln: Vampire Hunter (2012) where she plays the president's wife, Mary Todd Lincoln.
She was also seen in The Spectacular Now (2013) and Kill the Messenger (2014). Most recently, she starred in 10 Cloverfield Lane (2016), Swiss Army Man (2016), The Hollars (2016), and the short film So It Goes (2016).
Winstead, who currently resides in Los Angeles, enjoys cooking and sewing in her spare time.
Filmography:
So It Goes (2016)
Swiss Army Man (2016)
10 Cloverfield Lane (2016)
The Hollars (2016)
Kill the Messenger (2014)
Alex of Venice (2014)
Faults (2014)
A Good Day to Die Hard (2013)
A.C.O.D. (2013)
The Spectacular Now (2013)
A Glimpse Inside the Mind of Charles Swan III (2012)
Smashed (2012)
The Thing (2011)
Scott Pilgrim vs. the World (2010)
Make It Happen (2008)
Live Free or Die Hard (2007)
Death Proof (2007)
Grindhouse (2007)
Factory Girl (2006)
Black Christmas (2006)
Bobby (2006)
Final Destination 3 (2006)
Sky High (2005)
Checking Out (2005)
The Ring Two (2005)
The Long Road Home (1999)
<< back