View Full Site
Oakes Fegley Bio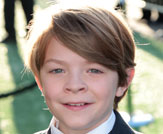 OAKES FEGLEY
Date of Birth: 2004
Child actor Oakes Fegley hails from Allentown, Pennsylvania. His first role was playing Tiny Tim in a 2009 stage production A Christmas Carol at the Civic Theatre of Allentown. He also played the role of Chicken Soup in Really Rosie at the Bucks County Playhouse in New Hope, Pennsylvania in 2013 and Pud in On Borrowed Time, directed by Joel Grey and staged at the Two River Theater in Red Bank, New Jersey from September 14, 2013 to October 13, 2013.
Oakes made his feature film debut in Fort Bliss (2014), playing a starring role as Paul, the son of main character Maggie Swann, played by Michelle Monaghan.
Next, he played the younger version of Jason Bateman's character in the feature film This is Where I Leave You (2014).
On television, Oakes had a recurring role on the hit TV series Boardwalk Empire, as the younger version of the character Eli Thompson, played by Shea Whigham. He also played Gabriel Hayward on several episodes of the TV series Person of Interest from 2014 to 2016.
He's best known for his starring role as Pete in Disney's remake Pete's Dragon, in which he plays an orphaned boy raised by a dragon in the wilderness. The movie also stars Robert Redford and Bryce Dallas Howard.
Next up for Oakes are roles in several more feature films, including When the Moon Was Twice as Big (2016), The Truth About Lies (2016) and Wonderstruck (2017), in which he stars alongside Julianne Moore.
Oakes' parents, Michael Fegley and Mercedes Tonne Fegley, and sister August are also actors. Oakes can play violin and dance hip hop and says he wants to be an electrical engineer or architect when he grows up.
Filmography:
Wonderstruck (2017)
The Truth About Lies (2016)
When the Moon Was Twice as Big (2016)
Pete's Dragon (2016)
Fort Bliss (2014)
<< back