View Full Site
Peter Sarsgaard Bio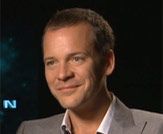 PETER SARSGAARD
Date of Birth: March 7, 1971
First gaining widespread notice playing the violent, yet charismatic, ex-con in the independent film Boys Don't Cry, American-born actor Peter Sarsgaard completed his studies at St. Louis' Washington University before starting his career in theater. Though he had taken drama in college, it wasn't until his senior year that he decided to take acting seriously. After co-founding the improvisational group 'Mama's Pot Roast' he continued his studies at the Actors' Studio in New York.
From the Actors' Studio Sarsgaard began performing in stage plays such as the off-Broadway production of Kingdom of Earth and Laura Dennis.
In 1995, Sarsgaard made his feature film debut in Tim Robbins' Dead Man Walking, playing a murder victim. Three years later, he landed his first substantial role as John Malkovich's fated son, Raoul, in The Man in the Iron Mask (1998). In 1999, Sarsgaard broke out of obscurity with his performance in Boys Don't Cry. The film's unanticipated success provided him with an introduction to a wide audience.
But it was his supporting role in Shattered Glass (2003) that won him numerous accolades. Besides a Golden Globe award nomination, he won awards from the Toronto Film Critics Association, San Francisco Film Critics Circle, Online Film Critics Society Awards, National Society of Film Critics Award, Kansas City Film Critics Circle Awards and the Boston Society of Film Critics Awards.
Since then he's appeared in a number of major motion pictures, including The Skeleton Key (2005) opposite Kate Hudson; Jarhead (2005) and Rendition (2007)with Jake Gyllenhaal; Orphan (2009) with Vera Farmiga; Knight and Day with Tom Cruise; and Robot & Frank with James Marsden. He then starred in Woody Allen's Blue Jasmine (2013), followed by Black Mass (2015) alongside Johnny Depp. More recently, he appeared in the biographical drama Jackie (2016) starring Natalie Portman, and the western reboot The Magnificent Seven (2016) starring acting heavyweights Denzel Washington, Ethan Hawke, and Chris Pratt.
Sarsgaard previously dated model/actress Shalom Harlow, who performed in The Salton Sea (2002) with him, but has been married to actress Maggie Gyllenhaal since May 2009. They have a daughter, Ramona.
Filmography:
Jackie (2016)
The Magnificent Seven (2016)
Black Mass (2015)
Pawn Sacrifice (2015)
Night Moves (2014)
Blue Jasmine (2013)
Robot & Frank (2012)
Green Lantern (2011)
Knight and Day (2010)
Orphan (2009)
In the Electric Mist (2009)
An Education (2009)
Elegy (2008)
Rendition (2007)
The Mysteries of Pittsburgh (2007)
Year of the Dog (2007)
High Falls (2007)
Jarhead (2005)
Flightplan (2005)
The Skeleton Key (2005)
The Dying Gaul (2004)
Kinsey (2004)
Garden State (2004)
Shattered Glass (2003)
Empire (2002)
Who Shot Victor Fox (2002)
K-19: The Widowmaker (2002)
The Salton Sea (2002)
The Center of the World (2001)
Housebound (2000)
Boys Don't Cry (1999)
Freak City (1999)
Another Day in Paradise (1998)
Desert Blue (1998)
The Man in the Iron Mask (1998)
Dead Man Walking (1995)
<< back