View Full Site
Robert Pattinson Bio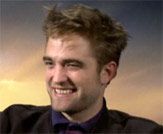 ROBERT PATTINSON
Date of Birth: May 13, 1986
Born in London, England, Robert Pattinson was bitten by the acting bug when, at age 15, he became involved with the Barnes Theatre Company. After taking on several acting roles onstage, Pattinson made his mainstream debut in the made-for-television movie Ring of the Nibelungs (2004), where he caught the attention of director Mira Nair.
Nair offered the still unknown British actor a bit part in her 2004 Vanity Fair adaptation, but Pattinson's scenes were later deleted and only appear on the DVD version. Pattinson's bad luck continued when he was fired from the 2005 UK Royal Court Theatre premiere of The Woman Before, shortly before opening night.
But Pattinson rebounded strongly—and got redemption—later that year when he landed a supporting role as Cedric Diggory in Harry Potter and the Goblet of Fire. Pattinson, still virtually unknown in Hollywood, was the first person to audition for the sought-after role and was offered the part only a week later. His portrayal of the Hogwarts heartthrob made Pattinson a world-wide star and catapulted him to celebrity status.
Following his stint as Cedric Diggory, Pattinson was named 2005's "British Star of Tomorrow" by Times Online and has been dubbed "the next Jude Law" by Teen People.
Pattinson's newfound success in Hollywood landed him the coveted role of Edward in the highly-anticipated screen adaptation of Stephenie Meyers' bestselling vampire romance book series, Twilight. Since then, he's gone on to be an international superstar, reprising his role in The Twilight Saga: New Moon (2009) and The Twilight Saga: Eclipse (2010). In fact, he works nonstop—in between Twilight movies, he's also played starring roles in Remember Me (2010) with Emilie de Ravin, Water for Elephants (2011) opposite Reese Witherspoon, Bel Ami (2012) with Christina Ricci and David Cronenberg's Cosmopolis (2012) alongside Sarah Gadon and Jay Baruchel.
More recently, he starred in Maps to the Stars (2014), The Rover (2014) and the drama The Childhood of a Leader (2016) with Bérénice Bejo.
Robert's latest projects include the action adventure biopic The Lost City of Z (2017), which stars Charlie Hunnam, and Werner Herzog's drama Queen of the Desert (2017) with Nicole Kidman.
He dated his Twilight co-star, Kristen Stewart for four years until July 2012, when it was discovered that she'd cheated on him with her Snow White & the Huntsman director, Rupert Sanders. The couple eventually ended up reuniting after Kristen released a public apology—just in time for the release of the final installment in the series, The Twilight Saga: Breaking Dawn - Part 2 (2012). However, they broke up again in 2015 and have stayed separated.
Filmography:
Queen of the Desert (2017)
The Lost City of Z (2017)
The Childhood of a Leader (2016)
Life (2015)
Maps to the Stars (2014)
The Rover (2014)
Bel Ami (2012)
Cosmopolis (2012)
The Twilight Saga: Breaking Dawn - Part 2 (2012)
The Twilight Saga: Breaking Dawn - Part 1 (2011)
Water for Elephants (2011)
Love & Distrust (2010)
Remember Me (2010)
The Twilight Saga: Eclipse (2010)
How to Be (2009)
Little Ashes (2009)
The Twilight Saga: New Moon (2009)
Twilight (2008)
Harry Potter and the Goblet of Fire (2005)
Vanity Fair (2004)
<< back