View Full Site
Timothy Olyphant Bio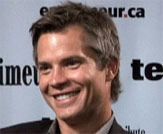 TIMOTHY OLYPHANT
Date of Birth: May 20, 1968
Known for having "star hair," Timothy Olyphant was born in Hawaii and raised in Southern California. He attended the University of Southern California where he swam competively and eventually became a US Finalist for the individual 200.
Heading off to New York, he was featured in Playwright Horizon's production of The Monogomist, for which he won the Theater World Award for Outstanding Debut Performance. As the wicked elfin narrator of The Santaland Diaries, he also gathered good notices.
Between stage and small screen, he appeared briefly in The First Wives Club, A Life Less Ordinary and TV's much acclaimed and little seen cop show High Incident.
But it wasn't until he played a killer in Scream 2 that people began to notice. As the crazy Tarantino/Cameron obsessed film student Mickey, Olyphant did a great job, considering the little part he had to work with. And as People magazine noted, he brought his star turn hair with him.
He appeared in Gone in 60 Seconds with Nicolas Cage and Angelina Jolie and also starred in The Broken Hearts Club with John Mahoney and Dean Cain. The latter film premiered at the Sundance Film Festival. Olyphant played a role in Rock Star, co-starring Mark Wahlberg and Jennifer Aniston but despite star power, the film bombed at the box office.
After several more films that didn't gain much notice at the box office, his career took a turn for the better in 2004 when he landed a regular role as Seth Bullock in HBO's western series Deadwood and starred in the feature The Girl Next Door (2004). He continued to work in both mediums, playing a regular role on the TV series Damages until 2010 and Justified until 2015. He then earned critical acclaim for his starring role in the major motion picture I Am Number Four (2011), followed by the independent dramedy This Is Where I Leave You (2014).
In recent years, he starred in the romantic comedy Mother's Day (2016), the biopic Snowden (2016), and the drama Behold My Heart (2016).
<< back