View Full Site
Xavier Dolan Bio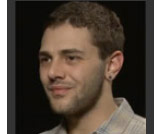 Xavier Dolan
Date of Birth: March 20, 1989
Xavier Dolan was born in Montreal, Québec to Geneviève Dolan, a teacher, and Manuel Tadros, an actor and singer. He's best known for his debut film I Killed My Mother (Xavier was both the director and a screenwriter) and the following features Heartbeats and Tom at the Farm.
His films have been highly rated by industry professionals, earning acclaim at prestigious international film festivals. His psychological thriller Tom at the Farm, based on a play written by Michel Marc Bouchard, premiered at the main competition section at the 70th Venice International Film Festival in 2013 and won the FIPRESCI prize. After winning the International Federation of Film Critics' best film prize in Venice, Tom at the Farm was screened at the 2013 Toronto International Film Festival.
In Tom at the Farm, Xavier plays Tom, who goes to his lover's funeral in the country. Tom's character is shocked to discover his lover's grieving mother has no idea who he is and doesn't even know her son was gay.
In March 2013, Xavier directed the "College Boy" music video for French rock band Indochine. It tells the story of a teenager, played by Montreal actor Antoine Olivier Pilon, who is bullied by his classmates, then gets beaten and humiliated. At the end of the video, the teenager is crucified. His schoolmates nail him to the cross and shoot at him with guns. When the police arrive, they start shooting at him too, while other kids record it on their smart phones. The video generated an enormous amount of controversy in France. France's Superior Council of Audiovisual has censored the video.
Xavier is openly gay, and has described his film I Killed My Mother as being a semi-autobiographical story of his younger self who was at odds with his mother.
Filmography (director):
Tom at the Farm (2013)
Laurence Anyways (2012)
Heartbeats (Les Amours Imaginaires) (2010)
I Killed My Mother (2009)
Filmography (actor):
Miraculum (2014)
Tom at the Farm (2013)
Laurence Anyways (2012)
Good Neighbors (2010)
Heartbeats (Les Amours Imaginaires) (2010)
I Killed My Mother (2009)
Suzie (2009)
Martyrs (2008)
The Suspended Fortress / La Forteresse Suspendue (2001)
Heads or Tails (J'en Suis!) (1997)
<< back